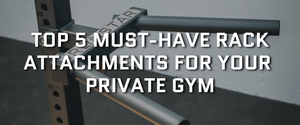 TOP 5 MUST-HAVE RACK ATTACHMENTS FOR YOUR PRIVATE GYM
Setting up a home gym is a great way to stay fit and healthy without having to leave the house and optimising your time. When it comes to building a home gym, a rack is one of the most important pieces of equipment. But a rack can do more than just hold your barbell – there are plenty of rack attachments available that can help you get the most out of your workouts. These are top 5 must-have rack attachments for your home gym.
1. Pull-Up Bar
A pull-up bar is a versatile attachment that can help you work your upper body, back, and core. A pull-up bar attachment can easily be added to the top of your rack, providing a stable and secure place to do pull-ups, chin-ups, and other exercises. Most of our racks already come with pull-up bar included, but if you want to add that extra grip, try adding the different add-ons for pull-ups.
 Front face pull up bar 
 Front mount add-on
2. Dip Bar / Station
A dip bar / dip station is another great attachment for your rack that can help you work your triceps, chest, and shoulders. It's also an excellent way to target your core. A dip bar attachment can be installed on the side or front of your rack, providing a sturdy platform for dips, knee raises, and other exercises.
 Star Beast Dip Station (side mount)
3. Landmine Attachment
A landmine attachment is one of the most versatile and space-saving options that can help you work your entire body. You can perform a wide range of exercises with it, including rows, presses, squats, deadlifts and more. The landmine attachment can be added to the bottom of your rack, allowing you to use your barbell in many ways.
 Landmine - fixed
 Landmine - plate
4. Safety Arms
Safety Arms are a must-have attachment for anyone who wants to lift heavy weights safely, especially if you train alone, without a spot partner. They provide a safety net in case you fail a lift, preventing injury and damage to your equipment. Safety Arms can be adjusted to the height that you need, allowing you to perform squats, bench presses, and other exercises with confidence.
 Star Beast Safety Arms V2.0
5. J-Cups 
J-cups are a simple but essential attachment for your rack. They hold your barbell in place. J-cups also provide a stable platform for you to perform squats, bench presses, and other exercises.
 Star Beast J-Cups V1.0
When purchasing add-ons, make sure they are compatible with your rack, because we offer two different dimensions of steel profiles - BEAST and LITE series. 
With the right attachments, you can create a complete home gym that is versatile, safe, and effective.
---