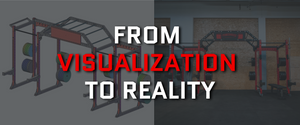 Visualize your ideal workout space
When it comes to creating the perfect fitness or workout room, visualizing the layout and equipment placement is crucial. It allows you to plan in advance and ensure that your space is optimized. Choosing IRONSTAR as your trusted partner and guide on this journey, you can experience the power of visualizing your future workout room before making any purchase. We're here to show you how we make it possible! Let us customize your future fitness space, ensuring our high-quality equipment seamlessly fits right in. Get ready for a personalized and effortless experience that will transform your workouts.
What makes visualization so important?
Visualizing your workout space may seem like a small step, but it's actually very important. It allows you to consider various steps such as room dimensions, equipment placement and overall looks. By envisioning your space before making the actual purchase you can avoid potential flaws and optimize the layout of the room for better overall functionality. Oftentimes there is limitation to space available so it is crucial to plan and visualize the layout before making the final decision.
We prioritize customer satisfaction, which is why we proudly offer the power of visualization. Our dedicated team of experts is readily available to offer guidance and assistance every step of the way. Whether you require help with equipment selection or optimizing the layout, our knowledgeable staff is here to support you, ensuring that your workout space becomes a true sanctuary for your goals and aspirations.
Visualizing your gym before purchasing equipment is a game-changer! By combining the amazing quality of our equipment with the ability to visualize, you can confidently start your fitness journey knowing that your space will be optimized, inspiring, and tailored to your needs. Don't just imagine your dream gym — bring it to life with IRONSTAR!
---