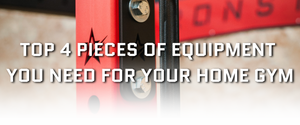 TOP 4 PIECES OF EQUIPMENT YOU NEED FOR YOUR HOME GYM
If working out in the comfort of your home would suit you best, setting up your own home gym might be the perfect solution for you. With a home gym, you have the convenience of working out on your own schedule - available for you at all times and without the crowd. Plus, you have the freedom to design your own space and choose the equipment that best fits your fitness goals and budget. You're basically the boss!
However, setting up a home gym can be quite a project, especially if you're not sure where to start. There are so many options when it comes to equipment and I know it can be very overwhelming deciding on it and finally buying it. This is our must-have list of home gym equipment you need and it doesn't even have to be expensive!
Including these few pieces of equipment in your home gym will set you up for success in achieving your fitness goals. Whether you're just starting out or you're an experienced athlete, these tools will help you get the most out of your workouts. Don't forget to mix up your routine and try new exercises to keep things interesting and challenge your muscles in different ways. Happy lifting!
---