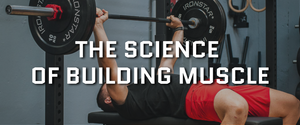 THE SCIENCE OF BUILDING MUSCLE: WHAT YOU NEED TO KNOW TO GET THE RESULTS YOU WANT
Many people strive to increase their muscle mass for a variety of reasons, from looking better to feeling stronger and more confident. But the science of building muscle can be complicated, and there's a lot of misconceptions out there. Here's what you need to know to get the results you want.
Resistance training is essential
When it comes to building muscle, resistance training is the key. This involves using weights, resistance bands, or bodyweight exercises to challenge your muscles and encourage them to grow. You can do resistance training at the gym or at home, but the important thing is to be consistent and gradually increase the weight or intensity of your workouts over time.
Nutrition matters
Muscles need fuel to grow, and that means you need to pay attention to your diet. To build muscle, you need to consume more calories than you burn, but you also need to make sure you're getting enough protein. Aim for at least 1 gram of protein per pound of body weight each day, and make sure you're also eating plenty of healthy carbs and fats to support your workouts.
Rest and recovery are crucial
Building muscle isn't just about working out hard – it's also about giving your muscles time to rest and recover. Your muscles repair and grow during periods of rest, so make sure you're giving them the time and resources they need to get bigger and stronger. Sleep is also very important and you have to make sure you're getting enough.
Progressive overload is key
If you want to see real results, you need to continually challenge your muscles by increasing the weight or intensity of your workouts. This is known as progressive overload, and it's essential for building muscle. Whether you're using weights or bodyweight exercises, aim to gradually increase the resistance or reps over time to keep pushing your muscles to their limits.
Consistency is crucial
Building muscle takes time and effort, and it's not something that happens overnight. If you want to see real results, you need to be consistent with your workouts and your diet. It's easy to get discouraged when you don't see immediate results, but remember that building muscle is a long-term process and the results will come if you stick with it.
Remember to stay patient and committed, and you'll be well on your way to building the body you've always dreamed of. You know what we say - "It only takes one yes for success."
---