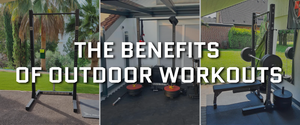 THE BENEFITS OF OUTDOOR WORKOUTS AND HOW TO STAY SAFE WHILE TRAINING OUTDOORS
Training outside has numerous benefits and can be a great way to improve both physical and mental health. Fresh air, natural light, and a change of scenery can enhance motivation and provide a boost of energy. 
Here are some of the benefits of outdoor workouts and how to stay safe while exercising outside:
Improved mental health: Exercise is known to reduce stress, anxiety, and depression, and being outside in nature can enhance these benefits even further. A change of scenery can also provide a fresh perspective and increase motivation.

Vitamin D boost: Sun exposure is the best way to get vitamin D, which is essential for strong bones and overall health. Outdoor workouts provide an opportunity to get some sun exposure and boost vitamin D levels.

Stay hydrated: Make sure to drink plenty of water before, during, and after your workout to avoid dehydration, especially in hot weather.

Wear appropriate clothing: Dress in layers and wear clothing that is suitable for the weather conditions. Don't forget about sunscreen. Sunglasses and a hat in sunny weather could also be a right choice.

Bring a charged phone if you're training alone: In case of an emergency, it's always good to have a charged phone with you.
By following these tips and being mindful of your surroundings, you can enjoy the benefits of outdoor exercise while staying safe and healthy. Talk about training your body and mind!
---