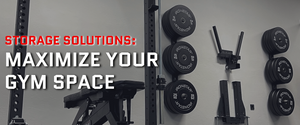 Maximize your Gym space with our Wall Mount Multi Storage system
Are you tired of constantly tripping over weights and other gym equipment that are cluttering up your floor space? Our Wall Mouted Multi Storage System is an amazing solution that doesn't only maximize your floor space but also gives your gym a sleek and organised look.
The Wall Mounted Storage system is perfect for those who have limited space in their home gym or workout area. By mounting your equipment on the wall, you free up valuable floor space that can be used for other activities or equipment. This means you can fit more into your gym without sacrificing on functionality.
Not only is this storage system practical, it also looks amazing. The sleek design and durable construction provide a modern look to your workout space.
But looks aren't everything - our storage system is also incredibly handy and effective. It is designed to hold a variety of gym equipment, including weights, bars and more. By keeping everything off the ground, you reduce the risk of accidents and damage to your equipment.
Our customers often buy this storage system with our Fold Back Wall Mount. This versatility allows you to store a wide range of tools and equipment in a single, organized location.
Here you can see how easy it is to use!
Investing in our Wall Mount Multi storage system will not only make your gym look more professional, but it will also save you space, keep your equipment organized and safe, and ultimately improve the gym experience for yourself or your clients.
---