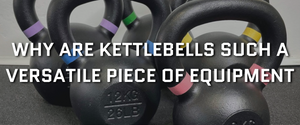 KETTLEBELLS AS ONE OF THE MOST VERSATILE PIECES OF EQUIPMENT
Kettlebells are a unique and versatile piece of fitness equipment that has become increasingly popular in recent years. They offer numerous benefits and can be used in a variety of workouts, making them a must-have for individuals of all fitness levels. 
Here are some of the reasons why kettlebells are a very versatile and effective piece of equipment:
Full-body workout: Kettlebell exercises engage multiple muscle groups at once, allowing you to get a full-body workout in a relatively short amount of time.

Versatility: Kettlebells can be used for a variety of exercises, including swings, squats, deadlifts, and press movements. They can be used for strength training, cardio, and functional movement training.

Improves functional strength: Kettlebell exercises mimic everyday movements, such as lifting and carrying, which makes them a great tool for improving functional strength.

Builds core strength: Because kettlebell exercises require stability and balance, they are an excellent way to build core strength.

Improves cardiovascular fitness: Kettlebell workouts can be high-intensity, making them a great option for improving cardiovascular fitness and burning calories.

Easy to use: Unlike other pieces of gym equipment, kettlebells are very easy to use and can be incorporated into a home workout routine.
It's safe to say that kettlebells are one of the most versatile and effective pieces of fitness equipment that offers numerous benefits. Whether you're looking to improve your strength, build your cardiovascular fitness, or simply want a full-body workout, kettlebells can help you achieve your goals.


---