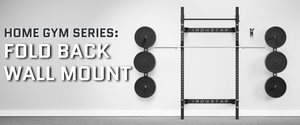 HOME GYM SERIES: FOLD BACK WALL MOUNT
For anyone serious about staying fit, a home gym is a no-brainer. It lets you get your workout in without ever needing to leave the house, gives you an opportunity for a better time-management of your day-to-day activities (a great way of spending quality time with your loved ones) and offers a private and comfortable workout space all while keeping your physical and mental health in check. 
One of the common issues people have, when trying to put together a functional home gym, is the SPACE availability. Did you know that you don't need more than 3m of wall space to have a complete & functional training zone in the comfort of your home? And guess what - we've got the PERFECT home gym solution for you!
Our Fold Back Wall Mount is a convenient and space-saving solution for creating a home workout station. A few other wall-mounted elements allow you to easily mount your barbell and weight plates on the wall, making your equipment accessible and organized.
Here our TOP three reasons on why to choose the IRONSTAR Fold Back Wall Mount:
Small space? No problem!
One of the biggest advantages of the IRONSTAR Fold Back Wall Mount is that it allows you to create a home gym in even the smallest of spaces. The structure can be easily folded up and stored against the wall when not in use, giving you back valuable floor space. This means that you can set up a home gym in your garage, spare bedroom, or even your living room without sacrificing too much space.
Keep your equipment organized
With the IRONSTAR Fold Back Wall Mount, you can keep your equipment organized and easily accessible. By mounting your barbell and plates on the wall, you'll always know where your equipment is and won't have to spend time searching for it. Plus, keeping your equipment off the ground can help prevent damage and prolong its lifespan.
Customize your workouts
Having your own home gym allows you to customize your workouts to your specific needs and goals. Check out these HOME GYM HACK ideas to maximize the use of your home gym equipment!
The IRONSTAR Fold Back Wall Mount is a great investment for anyone looking to create a home gym. By following these home gym hacks, you can maximize the use of your rack and create a workout space that is convenient, cost-effective, and tailored to your specific needs. 
If you need help with your floor plan and designing the home gym, reach out to our team and together we'll bring your idea to life!
---