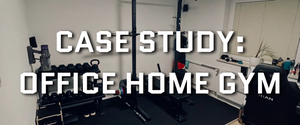 CASE STUDY: OFFICE HOME GYM
Have you ever wanted to build a workout space at home but thought you don't have enough space? Think again!
Nace contacted us with a wish to build himself a dedicated workout space, but with a twist. He actually converted half of his home office and used the space he had left for a home gym! Talk about creativity and amazing use of space! 
Did you know that exercise improves your productivity by increasing blood flow to the brain, making it easier to focus? It also facilitates creative thinking, helping you find innovative solutions to difficult problems. So it's only right you have a workout station next to your home office.
Designing and equipping a custom gym can sometimes be a struggle and that's when our team brings your visions to life. It's great if you want to stand out, because we love a good challenge!
Your empty gym is our blank canvas where the sky is the limit. All you have to do is send us your inquiry with ideas, questions and requirements and our team will take on the project - we'll prepare a custom quote for you.
Let's get creative and build your dream gym together!
---