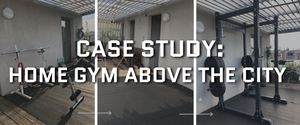 CASE STUDY: HOME GYM ABOVE THE CITY
When Eva decided to set up a home gym on her balcony on the 8th floor, she knew she needed equipment that was both sturdy and versatile. She already owned a few products, but that didn't satiafy her needs and she wanted to upgrade her workout space. After doing some research, she found us and we were happy to help her turn her idea into reality.
 (before)
 (during renovation of the workout space)
One of the features that really stood out for her, was the custom-made pull-up bar. Unlike standard pull-up bars, which are typically designed for men's hand size (outer diameter 33mm), the pull-up bar on Eva's power rack has a smaller diameter that was better suited for women (27mm). This small change made a big difference in her workouts, allowing her to comfortably grip the bar and perform pull-ups and chin-ups with proper form.
 (the day of delivery)
The power rack itself was also a game-changer for her workouts. With its sturdy construction and multiple attachments, she's now able to perform a wide variety of exercises, from squats and bench presses to pull-ups and dips. Because her balcony has limited space, she needed equipment that could serve multiple purposes. The Star Beast power rack V2.0 did just that, allowing her to perform a full-body workout in a relatively small area - talk about a space-efficient solution. 
 (after)

"I'm very satisfied with the product quality and simplicity of the whole order process. IRONSTAR team took care of everything and was able to fulfill my wishes while giving me support that I needed. I now have an amazing space for my workouts in the comfort of my own home!" - Eva, Austria
---