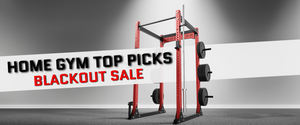 2023 Black Friday: Home Gym Top Picks
There's no better time than now to invest in yourself and in your home gym. With our BLACKOUT SALE just around the corner, it's the perfect opportunity to elevate your fitness journey and save BIG while doing so. We've curated a selection of our top picks for creating the ultimate home gym, whether you're just starting your fitness journey or looking to upgrade your current setup. Get ready to discover the fitness equipment that will transform your workouts and boost your overall well-being.

RACKS
Fold Back Wall Mount - Space-Saving Efficiency
If space is a concern, the Star Lite Fold Back Wall Mount is the perfect solution. This versatile piece of equipment provides a sturdy foundation for your workouts while saving valuable floor space.


Half Rack - Versatility and Strength
For those who crave versatility and performance, the Star Beast Half Rack V2.0 offers an all-in-one solution. This robust piece of equipment allows for a wide range of exercises. It's the perfect choice for individuals looking to maximize their training options.


Power Rack - Unleash Your Potential
If you're ready to take your strength and power training to the next level, the Star Beast Power Rack V2.0 is the answer. With its impressive build and stability, it provides a secure environment for heavy lifting and safety during your workouts.
WEIGHTS - The Core of Your Strength
No gym is complete without a range of weights to challenge your muscles. From dumbbells to barbells, we offer a wide selection of high-quality strength equipment that will fuel your strength gains. Make sure to check out our Black Friday deals on these essential components of any home gym.

FLOORING - Protect Your Investment
Our Rubber Flooring not only protects your floors from heavy equipment but also provides shock absorption, reducing the impact on your joints. Create a comfortable and safe workout space that's easy to clean and maintain.
ADD-ONS for enhanced workouts
Explore some of our best-selling add-ons to customize your home gym experience. From Safety Arms to Dip Station and Landmine for added versatility, IRONSTAR offers a range of options to tailor your workouts to your preferences. 



Take your home gym to the next level and SAVE BIG on the fitness equipment you've always wanted. Now is the ideal time to invest in your well-being, and our top picks make it easy to create a personalised workout space that suits your fitness goals. Don't miss out on these incredible deals and take the first step towards a healthier, happier you!
---