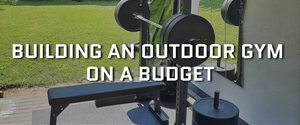 BUILDING AN OUTDOOR GYM ON A BUDGET
How to create a fitness space without breaking a bank
Staying active and healthy is essential for having a happy and fulfilled life. However, gym memberships and equipment can be expensive, and it's not always easy to find the time to go to a gym. Building an outdoor gym is a great way to stay fit and active while enjoying being outside. If you want to know how to build an outdoor gym on a budget and create a fitness space without breaking the bank - read along.
Set a budget
Before starting any project it's important to set a budget. Figure out how much you're willing to spend on your outdoor gym and stick to that budget. You can always upgrade the equipment and add other products as your needs progress.
Choose the right location
Choosing the right location for your outdoor gym is crucial. Look for an area that is flat and has enough space for the equipment you want to install. You may also want to consider the privacy of the space and how much sun it gets throughout the day. 
Keep it simple
When it comes to building an outdoor gym on a budget, keeping it simple is key. You don't need a lot to get a good workout. Start with the equipment that will help you achieve your fitness goals, and build from there.
Safety first
Safety should always be a top priority when building any kind of gym. Make sure all equipment is properly installed and secured to prevent injury. With our equipment you get instructions with security measures. If you need any further assistance, we're always happy to help.
Go ahead and start building your outdoor gym today! 

Our BEAST SERIES racks can be prepared for outdoor use, by adding additional protection layer of zinc under the powder coating layer. The Star Beast SQ2300 squat rack is one of the most popular among our customers, as it provides a versatile and space-saving outdoor workout station. Check it out HERE.
---